Postsecondary admission officers are responsible for approaching and corresponding with potential students, giving presentations at high schools, or creating brochures and documents providing information on their school. It is usually necessary to have a bachelor's degree for this job, which requires good interpersonal and communication skills.
Admissions Officer Responsibilities:
Accepting and filtering student applications
Assessing applications according to our eligibility criteria
Organizing and filing recruitment documentation
Providing consultations with prospective students when requested
Referring prospective students to specific program directors for further information (as needed)
Processing student registration and payment
Informing applicants of their application status, including acceptance or rejection
Responding to information requests
Participating in (or delivering) information sessions as needed
Other duties as assigned
Providing scholarship and bursary information to accepted students
Admissions Officer Qualifications:
Business, Marketing, or another relevant degree from a postsecondary institution
and 1-3 years of recruitment experience would be considered an asset, but not a requirement
Candidates who are alumni of our organization should identify themselves in their application
Detail-oriented and organized
Must be comfortable working with large databases and do most daily work on a computer
Professional email and phone communication is required
Admissions Officer Core Skills:
Attention to detail
Professional email communication
Organization
Multi-tasking
Problem-solving
Customer service
Teamwork
Decision-making
Ability to work under pressure
Deadlines
Filing
Payment processing
Independent work
MS Products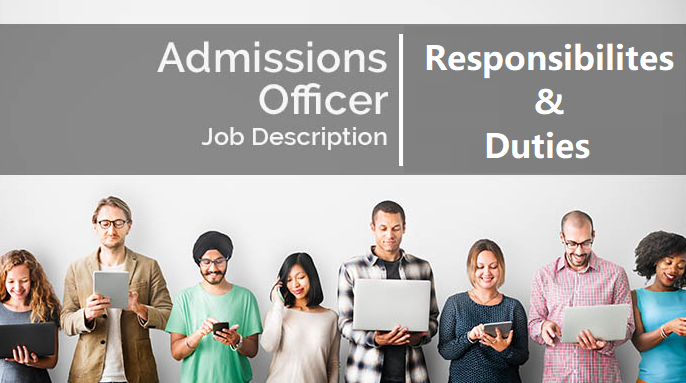 Tips for Admission Officers to Achieve Their Enrollment Targets
Despite spending time recruiting representatives, colleges don't always have the right resources to optimize their performance. As a result, classes remain unfilled.
The following tips can help admission offers attract more applicants.
Chase the right KPIs
Getting a student's attention, setting an appointment, and ensuring they show up is no easy task. It is also a vital part of the enrollment process.
Once they arrive, it's relatively easy to get them excited with virtual or in-person tours (especially if they are even a tiny bit interested in your program). You can expect a massive increase in enrollments if you are able to master the "lead capture to showing up" process.
However, when asked what KPI(s) are most important for your admissions team, 65% of admission officers said – number of starts.
I get the impression that admission counselors are more focused on the results than the KPIs that will help them achieve those results.
Colleges and career schools that meet their admission targets focus on the following KPIs.
Lead contact rate: The percentage of inquiries that admission officers contact via phone or email
Appointment set rate: The percentage of student inquiries that result in appointments
Appointment show rate: The percentage of appointments that show up for counseling, virtual campus tours, etc.
Application rate: It is the percentage of students who showed up to apply for a course
Enrollment rate: The percentage of applicants who enrolled.
Start rate: The percentage of enrolled students who began classes.
As soon as you start tracking these KPIs, you will know exactly where the problem lies. If your appointment show rate is low, you'll devise measures to improve it. Remind students about the appointment schedule by sending SMS/WhatsApp texts, and you'll reduce no-shows.
By monitoring individual KPIs, you can fix the bottlenecks and close more admissions.
Set up an enrollment process for your internal teams and follow it diligently
Institutions often have chaotic, unstandardized follow-up processes. Sometimes they don't know where the inquiry comes from or who is following up with them. It is also the reason for a low response rate to appointments.
According to our survey of higher education institutions, 58% have an inquiry-to-appointment show rate below 30%.
Admissions reps want to maximize their "Appointment Set" rates. However, not all of them are good at setting appointments. It's not that they're not putting effort. They are not trained for such tasks. Additionally, because they are engaged with prospects, doing paperwork, registering students, and a hundred other things, they don't have enough hours in the day to set appointments.
Solution: Split your admissions team to handle the following tasks so that each employee can focus on one task.
Setting appointments: Appointment scheduling should be handled by a dedicated staff. Result = Higher appointment rates = Higher show rates.
Admission Reps: These are the people who love face-to-face or virtual interactions, so they can show off what your school is about, make a great connection, and get enrollments.
Student Coordinators: They handle all the paperwork, ensure that everyone gets the financial aid they need, facilitate orientations, etc. They are the ones who ensure that those starts happen. Admission reps and appointment setters should not be chasing these jobs.
When your team members are able to do their tasks proactively, you will see better results.
Have a contact strategy in place
According to our survey, 40% of schools lack a set cadence. 10% of schools have a script (a specific sequence of emails and phone calls).
It is impossible to know what works the best if you let your reps use their own methods every time. Inconsistency and ambiguity in your messaging will result if your team does not know what to communicate.
Create a plan (with scripts, replies, and resources) before enrollment season begins. Share all materials with everyone involved in admissions.
To sum up:
Plan a contact strategy: Your team needs to know when to call/text and when to email. Do not over or underdo these.
Script everything: Follow a consistent pattern for every conversation and everything else. Aim at exploratory talks. What interests you about becoming a cosmetologist? What inspires you to become a cosmetologist?
Prepare a follow-up structure: Identify all possible follow-up paths. Following up with no-shows, people who show up but don't apply, and every possible drop-off point.
Influence students to enroll in your course
Our study found that 42% of schools have an appointment-to-enrollment ratio below 30%.
In the thick of the new normal, with fewer campus tours and events, schools are failing to entice their desired students to enroll. Reps cannot build prospect relationships by relying solely on word of mouth. Students are attracted to college tours by the look and feel of the campus. If schools do not do this, they are experiencing many drop-offs from their admissions funnel.
You can still recreate a similar experience through virtual presentations and campus tours. Virtual presentations have increased the lead-to-show rate by 29% and the lead-to-application rate by 19%. Online presentations are much easier than in-person interactions. They can be fun, are much faster, and are more compliant. Here are the best ways to deliver virtual presentations:
Direct Your Set: Use green screens, good microphones, a good light source, a good video camera, etc., and it could all be set up for under $400.
Direct Your Audience: Engage and charismatize your audience rather than reading the lines mechanically. It will lead to more action.
Direct Yourself: Make your admission reps great presenters. Don't just leave them with a camera and a Zoom room.
You can influence students to apply and enroll with a helpful presentation. Be sure to read this article about student engagement strategies for enrollment.
Take ownership
Because of the lack of a streamlined process, admission officers don't have complete ownership of leads. That is why there are missed follow-ups and lesser enrollments.
Keeping track of your team's performance regularly is a simple way to make them accountable for their tasks. However, not all institutions do that. Nearly 40% of higher-education institutions generate reports manually (using excel sheets).
As you can see, tools like Educational CRM provide automated reports that can save hours of time spent navigating through Excel sheets. It is also the success mantra of institutions like Asher College, Stratford University, and others.
So, get an admissions CRM that allows you to customize and generate daily activity reports with just a few clicks. Custom dashboards let you see only the information that matters to you and remove the rest of the noise.
To make your job easier, here's a recommendation.
"With LeadSquared, our contact rate went up by 13%, and scheduled campus appointments improved by 5%," says Kim Gasper, Corporate Director of Marketing for Asher College.
FAQs
How can I become a good admission officer?
Work on your interpersonal skills, gain in-depth program knowledge, automate repetitive tasks, such as reporting and emails, and use digital tools to work more efficiently. Admissions CRM is a piece of software that is very useful for admission officers throughout the enrollment process.
What is the role of the admission officer?
A principal duty of an admission officer is to review the applications of prospective students based on the institution's admission policies. Admission officers interview students to learn more about their goals and background. Admission officers also provide clarifications to students' queries and guide them on their career goals.
Who is an admission representative?
During the application process, an admissions representative works with prospective students at a school or college.