An organization's code of conduct is its most common policy. Employees and third parties are held to these principles, standards, and moral and ethical expectations as they interact with the company.
Compliance efforts require a code of conduct, which provides documentation in the event that an employee or third party violates company policy. Let's discuss what a code of conduct means and how it can affect an organization.
What is a Code of Conduct in the Workplace?
A company's code of conduct outlines principles and standards that all employees and third parties acting on behalf of the company must follow.
The code of conduct examines the organization's mission and values and links them to professional behavior standards. Codes of conduct are often used as performance benchmarks in the workplace.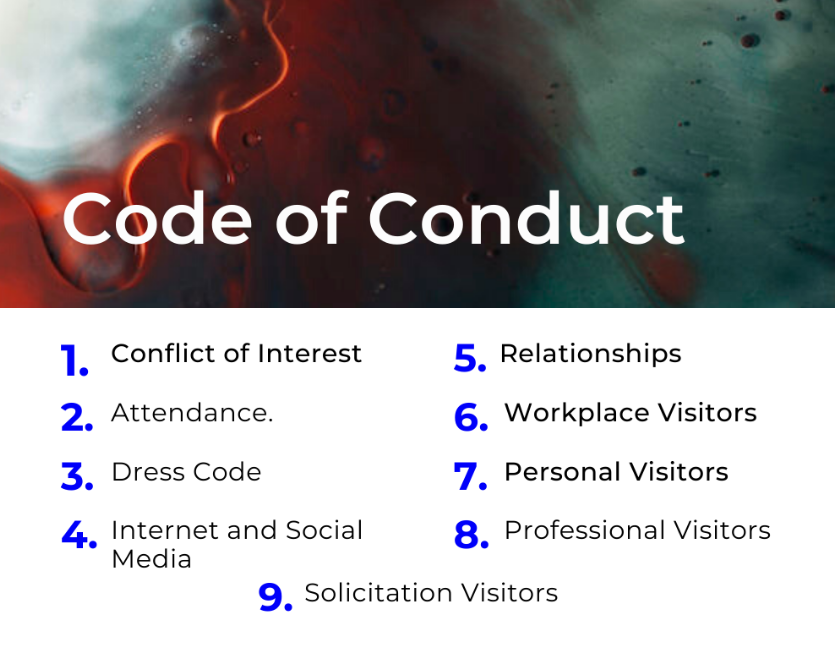 Why is Having a Code of Conduct Important?
Codes of conduct help employees make better decisions on a daily basis. The code won't spell out every ethical dilemma an employee may face, but it should outline the guiding principles by which employees should act. This will enable them to lead their workforce to make the right decision.
Building a culture of compliance within an organization requires a strong ethical code of conduct. Codifying a code of conduct is a great way to focus the leadership team on the standards that employees should uphold and how they should behave. It is these standards that have a direct impact on how the organization functions, how employees conduct themselves daily, and how the workforce interacts with others on behalf of the organization.
In addition to ethical reasons, there are also legal reasons to implement a code of conduct. Public organizations in the U.S. are required by law to have a code of conduct. Private organizations would be wise to follow suit.
What Should a Code of Conduct Include
Every code of conduct should have a few common elements. An ethical code of conduct should include a letter from the CEO, reaffirm the company's values, and explain how violations are handled.
In his letter, the CEO should emphasize the organization's commitment to these standards. By writing this note, the leadership team is expressing its commitment to compliance and ethics.
Employees and third parties can learn more about the organization's values by reading its code of conduct. Since they will be signing, they will be agreeing to uphold these standards. In order to build a successful business and establish a culture of compliance, choosing your organization's values is essential.
As a final point, a code of conduct should describe how violations of the code of conduct are dealt with internally and mention the legal risks external to the organization. If out-of-line behavior is observed, the code should also clarify the proper channels for reporting it.
How does an organization implement an effective code of conduct?
Top-notch codes of conduct share a few characteristics.
First, they are regularly reviewed. By updating the organization's code of conduct annually, the content is up-to-date and relevant, since things are always changing within organizations. Codes should be living, breathing documents that are highly relevant to employees and their work.
Two, the signatures are managed by a policy deployment solution that tracks signatures and timestamps. You can write the best code of conduct in the world, but if you don't deploy it properly to your employees and third parties, what's the point? Ensure that your employees and third parties understand the contents and implications of the code of conduct.
Lastly, an effective code of conduct is digestible by its intended audience. The document is not stuffed with legalese that only the company's lawyers will understand. Instead, it is written in a simple format that everyone can understand. This may seem like a simple thing to emphasize, but its impact on the adoption and impact of a code of conduct within an organization cannot be underestimated.