The field of aesthetics, or esthiology, is one of the fastest-growing in the United States. With more and more women and men focusing on self-care and wellness, they look for professionals who can help them improve their skin. Professional medical estheticians are quickly gaining new respect, including from the medical community.
Learn what to expect when it comes to training and certification if you're interested in a rewarding career in skincare. Esthetician school can help you become a knowledgeable skin care specialist in as few as six months, depending on your state and whether you attend full-time or part-time.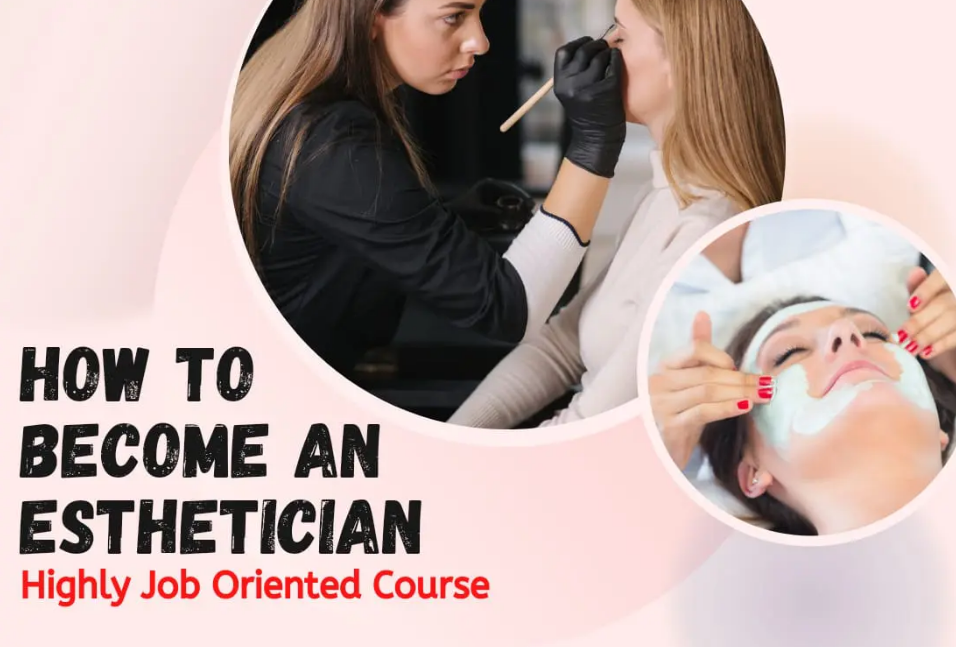 What Is an Esthetician?
A licensed esthetician is a professional who identifies cosmetic issues (such as wrinkles, pigmentation, or blemishes) and applies treatments to improve the condition of the skin. In addition to facials, superficial chemical peels, body treatments, skin conditioning, and blemish extraction, estheticians may also offer waxing, eyelash extensions, and makeovers.
Like licensed cosmetologists, aestheticians can also perform advanced treatments like pore cleansing, extractions, microdermabrasion, chemical peels, light therapy, and hair removal. Also, they may educate their clients about products, skincare regimens, and the benefits of aesthetic procedures.
In clinical settings, medical estheticians may help people identify and recover from illnesses affecting the skin, such as working with cancer patients or burn victims after surgery.
Typically, an esthetician works in a spa or salon environment. A few estheticians work in a medical setting to complement medical services, such as in a dermatologist's office, but they are not medical professionals. Estheticians may practice in locations as varied as:
Spas
Salons
High-end hotels
Luxury resorts
Hospitals
Nursing facilities
Movie sets
Dermatologist or plastic surgeon offices
Retail or educational environments
An esthetics program requires around 600 hours of hands-on training, as estheticians are in-demand skincare experts. For esthetics licensure, you must demonstrate a thorough understanding of the skin, as well as the advanced treatments such as lasers, LED lights, oxygen, and ultrasonics. While program requirements can vary from state to state, most states require at least 600 hours of training to obtain a license.
Estheticians should also have a friendly and professional personality that inspires confidence in their clients. A skilled esthetician must be able to listen and empathize with the needs and concerns of their clients, often customizing their treatment.
Sometimes the term is written as "aesthetician," but it's just an alternate spelling of "esthetician." Similarly, the term "esthiology" is the same as "esthetics."
Esthetician Pay and Job Outlook
As an aesthetician, you can earn a satisfying salary and have a bright career outlook. Skincare specialists earn a median hourly wage of $16.39 as of May 2019, which is equivalent to about $34,000 per year with a 40-hour workweek — although working more than 40 hours is not uncommon in esthetics. Additionally, esthetician jobs are expected to grow 17% from 2019 to 2029, which is more than twice as fast as the average for all jobs.
Despite this, estheticians' salaries and job prospects often depend on their location and level of training. Find out more about esthetician careers and average salaries by location.
How to Choose an Esthetician School
Ensure the program matches your educational goals and lifestyle before enrolling in an esthetician school. A commitment of time, money, and effort goes into attending esthetician school. Make sure you understand the cost of your education before enrolling.
Compare esthetician schools by looking for the following:
Accreditation of Esthiology Schools
Accreditation ensures that your program meets the requirements for licensure. Look for programs accredited by the National Accrediting Commission of Cosmetology Arts and Sciences (NACCAS), the leading accrediting body.
Program Reviews
Student testimonials can help you determine if a program is right for you. Review the program's reputation across several online sources, such as Google reviews. Feel free to contact the admissions team with questions or concerns.
Research the school
School catalogs typically provide program details, including tuition and fees, scholarships and other financial aid, job placement rates after graduation, and student-to-faculty ratios. Some schools even have relationships with local companies that hire program graduates.
Talk to Esthetician Graduates
Like previous students, no one knows whether a program is worth the price. Get first-hand advice from grads and learn about the specialties that interest you.
Take a Tour
Visit the school in person or schedule a counseling session before enrolling.
Community colleges, independent esthetics and esthiology schools, and cosmetology schools offer aesthetics programs. There may be a list of approved programs near you on the website of your state's board of cosmetology or department of education. You can also browse the Beauty School Directory's comprehensive list of esthetician programs in your state.
Esthetician School Requirements
There are several prerequisites to becoming an esthetician. Education requirements, tuition costs, training hours, exams, and other licensing requirements vary by state.
According to most schools, students must meet the following eligibility requirements:
Be at least 16 years of age or older
Hold a high school diploma or GED
Provide a photo ID as proof of identification
Provide a social security card as proof of citizenship
Take a preliminary exam or an aptitude test
Pass a drug screening test
Some states require only an eighth-grade education for enrollment in a basic program. You may also need to have a basic esthetician license to enroll in advanced certifications or programs. Make sure you meet the program's requirements before enrolling.
How Much Does Esthetician School Cost?
According to Evergreen Beauty College, the average tuition for an esthetics program is between $3,000 and $10,000. The cost will vary based on the length of the program, location, and required training hours in your state.
Additional fees may also be associated with attending a program, such as textbooks, registration fees, and equipment, which can vary by program.
How Long is Esthetician School?
The length of your program directly correlates with the number of training hours required by your state, and most schools require a certain amount of hands-on training to comply with state requirements.
You can expect to spend approximately 600 hours over six months in esthetician school, although some states require up to 750 hours. You can explore specific training hours requirements based on your state board's esthetician licensing requirements.
What to Expect at Esthetician School
The training in aesthetics is much more in-depth than simply learning how to care for your skin. In addition, you'll learn about sanitation, human physiology, following state laws, and building professional business skills.
A school for estheticians combines theoretical knowledge with practical training. After learning through classroom instruction and demonstrations, students use mannequins to practice their new skills. They then move on to real volunteers as they become comfortable with the tools and products.
Even though most programs take place during the day, some also offer evening and weekend classes. Anesthetics students who commit to a full-time schedule may spend around 24 to 35 hours per week in and out of class, either studying or practicing esthetics.
What Do You Learn in Esthetician School? Coursework and Curriculum
Every program comes with slightly different courses. You can expect your esthetician program to cover topics such as:
Anatomy and physiology
You will learn basic human anatomy and physiology, especially how the circulatory, endocrine, respiratory, digestive, and muscular systems work. You will also learn about skin conditions and common disorders.
Ingredient analysis
Get to know what ingredients make up skincare products and how they work together to protect, heal, and beautify the skin.
Facials, cleansing, toning and massaging
Basic esthetics courses like these prepare you for safe skincare.
Makeup application
Your makeup application course will teach you how to apply products to enhance your client's natural beauty.
Hair removal and waxing
You can remove unwanted hair using various methods, including waxing and threading.
Marketing, sales, and salon management
In addition, you will learn how to set up a business, including marketing, client retention, health insurance requirements, and tax laws.
Safety, sanitation, and sterilization
In this course, you will learn how to protect clients and meet state requirements regarding the safety and sterilization of tools and your workspace.
Training Hours for Esthetics
A licensed esthetician must complete a certain number of hours of hands-on training. You will gain the hands-on skills necessary to become a successful esthetician with these training hours. The average program requires around 600 hours but will vary based on your state.
Expect your hands-on training to cover:
Setting up the workstation
Learn safe and sanitary best practices you will use to set up and break down your workstation for various treatments.
Preparing clients for treatments
Practice the strategies you learned to make your clients feel comfortable before treatment, clearly explain what to expect, and take the time to understand their medical history.
Sanitizing equipment properly
Learn how to clean and sanitize the entire workstation after each client to stay in line with health and safety laws.
Performing actual treatments
As you learn, you may practice treatments on mannequins before moving to live models or fellow students. You may work collaboratively in groups or follow an instructor-led lecture. Some programs host student-run spas.