What is Orthopedic? Orthopedics, also known as orthopedic surgery, is a discipline of surgery concerned with the diseases and injuries of the musculoskeletal system.
Musculoskeletal system consists of bones, joints, muscles, ligaments, tendons, and nerves.
Orthopaedic surgeons are the doctors who specialize in this field. They use both surgical and non-surgical methods to treat diseases of the musculoskeletal system.
In 1741, Nicholas Andry a French professor coined the term "Orthopaedics" when he published Orthopedic.
The orthopedic surgeons also worked with other health care professionals and often provided their services as consultants or physicians.
Orthopedic surgeons treat various diseases and conditions like:
Dislocations and Fractures
Tendon injuries pulled muscles
Arthritis and osteoporosis
Bone tumors, club foot, and unequal leg lengths
Scope
The field of orthopedics offers various job prospects for degree holders. The wide variety of career job opportunities and the career-growing way for orthopedic surgeons are very sharp.
During their training, orthopedic surgeons gain extensive knowledge of the diseases and injuries affecting the musculoskeletal system. Muscles, bones, tendons, ligaments, and nerves comprise it. Congenital conditions such as scoliosis, injuries such as broken hips, and degenerative diseases such as osteoporosis and arthritis are treated by orthopedic surgeons.
The candidate can join defense services such as the army or naval forces. An Orthopedic can start their career working in high-profile hospitals, either in the public or private sector, according to the choice of individuals. Orthopedic degree holders have many other career options. They can open their own clinics and provide services to patients. You can also opt to teach at universities and colleges or enter into research as an orthopedic doctor.
Orthopedists who have graduated with doctoral degrees can get jobs in reputed Government Hospitals like AIIMS and PGIMER, Corporate Hospitals like Fortis, Apollo, etc. They can also get jobs in rehabilitation centers established by sports and defense organizations.
Courses & Eligibility
In India, there are ample courses available in this field from certificate courses to doctoral level courses. In India, there are many reputable colleges and universities that offer courses in this field. To become an orthopedic surgeon you should hold an MS in Orthopaedics or a Diplomate of National Board (DNB-Orth) degree. Here we have listed some courses in this field.
Diploma & Certificate Courses:
Diploma in Orthopaedics from the National Board of Medical Exams
Diploma in Orthoptics
PG Diploma in Orthopaedics – D.Ortho.
PDCC (Neuro & Ortho Anaesthesiology)
Bachelor Courses:
MBBS (Bachelor of Medicine and Bachelor of Surgery)
Master Courses:
Master of Surgery (MS) in Orthopaedics
Master of Science (M.Sc.) in Orthopaedics
Doctoral Courses:
Doctor of Philosophy in Orthopaedics
Basic Eligibility
For admission to the MBBS program, students must have passed 12th Grade Science or higher secondary with Chemistry, Physics, and Biology. For admission to master's courses, students should have a bachelor's degree (MBBS) from any MCI recognized university or college.
Admission
How to get admission to these courses?
For admissions to medical courses, you can take national or university-level medical examinations. Most colleges or institutions give admission to students on the basis of ranks secured by the students in the entrance test. Some most popular medical entrance tests are listed below:
NEET PG 2022
AIIMS PG 2022
JIPMER PG 2022
Top colleges to study orthopedics in India are:
Armed Forces Medical College (AFMC), Pune
All India Institute of Medical Sciences (AIIMS), New Delhi
Bharati Vidyapeeth Deemed University, Pune
Christian Medical College, Vellore
Darbanga Medical College, Darbhanga
The following are key skills required to become an orthopedic surgeon:
You should be physically and mentally fit for standing long times in operation theatres
And feel confident about your decisions
You should have a thorough understanding of all the tools and machines used during surgery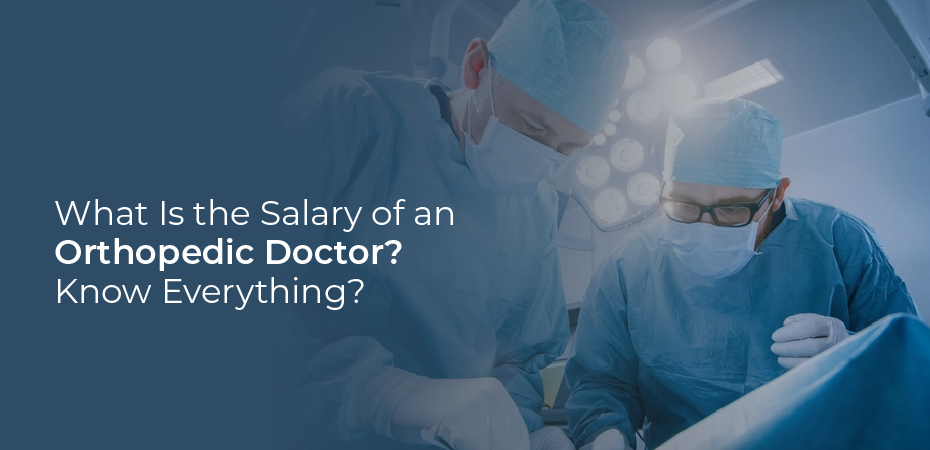 Career & Jobs
There are great career opportunities in the field of Orthopedics not only in India but also abroad. The career development path for orthopedic specialists is very bright. There are lots of job opportunities in the government, private and public sectors.
Degree holder candidates may appear for the Combined Medical Service examination conducted by the Union Public Service Commission (UPSC), Government of India for entry into central services. The services provided under UPSC include railways, Ordnance factories, health services, Central Health Service, and Municipal Corporation of Delhi. A state, provincial service examination is administered by the state, provincial service commission (SPSC) for admission to state services.
Those candidates have a graduation degree in this field, and they can look for jobs in the health care sector such as doctors, therapists, surgeons, nurses, and so on. Doctoral degree holders may choose to teach at colleges and universities or pursue research. They can also set up their own nursing homes and hospitals since they have some experience.
You can appear for the Combined Medical Services Examination to join central services such as the Ordnance Factory Health Service, Central Health Service, railways, and the Municipal Corporation of Delhi. You can also join the armed forces and naval forces.
After completing your education, you can find employment in reputed Government Hospitals, such as AIIMS and PGIMER, as well as Corporate Hospitals, such as Apollo, Fortis, etc. You can also work in rehabilitation centers run by sports and defense associations.
Some of the areas of work are:
Researchers
Orthopedic Surgeon
Physical therapist
Orthopedic Nurse
Sports Medicine Physician
Orthopedic distributors for surgery and musculoskeletal products
Consultants
Job Profile:
Orthopedic Surgeon
Researchers
Consultants
Physical therapist
Orthopedic Nurse
Sports Medicine Physician
Salary
One of the highest paying medical specialties is orthopedics. The salary will depend on your reputation as well as the place you work. Orthopaedic surgeons start with a handsome salary of Rs. 3 Lacs to Rs. 5 Lacs per annum. Depending on your experience, you can earn around Rs.15 Lacs to Rs.20 Lacs per year.
Abroad, an Orthopaedic Surgeon can earn between $123,197 and $541,917 per annum.
Books & Study Materials
Practical Fracture Treatment by Ronald McRae
Low Back Disorders by Stuart McGill
Operative Techniques in Orthopaedic Surgery by Wiesel
Review of Orthopaedics by Mark D. Miller
Emergency Surgery of the Hand by Michel Merle